SunRide
To order a SunRide, download the all new SunRide app.


SunRide is a microtransit service available in 4 Coachella Valley zones connecting riders to the fixed route network or to a single point of interest along a fixed route network in the designated zone. Riders can plan, book and keep track of their trips all from one application, the SunRide app, which will call for a SunRide vehicle to pick them up within walking distance of their specified location and drop them off at a bus stop or point of interest within the designated zones.
Trips can be scheduled ahead of time or on-demand with an approximate 15 minute wait to match with a driver.

Hours: SunRide is available Monday-Friday 5:30 a.m.-6:30 p.m.
Fare: $3 and includes a free transfer to SunLine local routes 1-9. 
Be ready. Vehicles depart briefly after arriving at the pick-up point noted by the app.
Riders using SunRide cannot be guaranteed an ADA-compliant vehicle unless specifically requested when booking.
SunRide safety protocols include:
Single ride trips (only people in your party)
Partition between passenger(s) and driver
Required mask policy
Wipe down of interior spaces between rides
Nightly disinfecting fogging of vehicle
Share the SunRide App with friends to receive a free ride credit ($3 value) every time you share the app. What's more? When you share the app with friends, their first ride is free! As soon as they book and complete their first ride, you'll see $3 in your SunRide App wallet. It's that easy!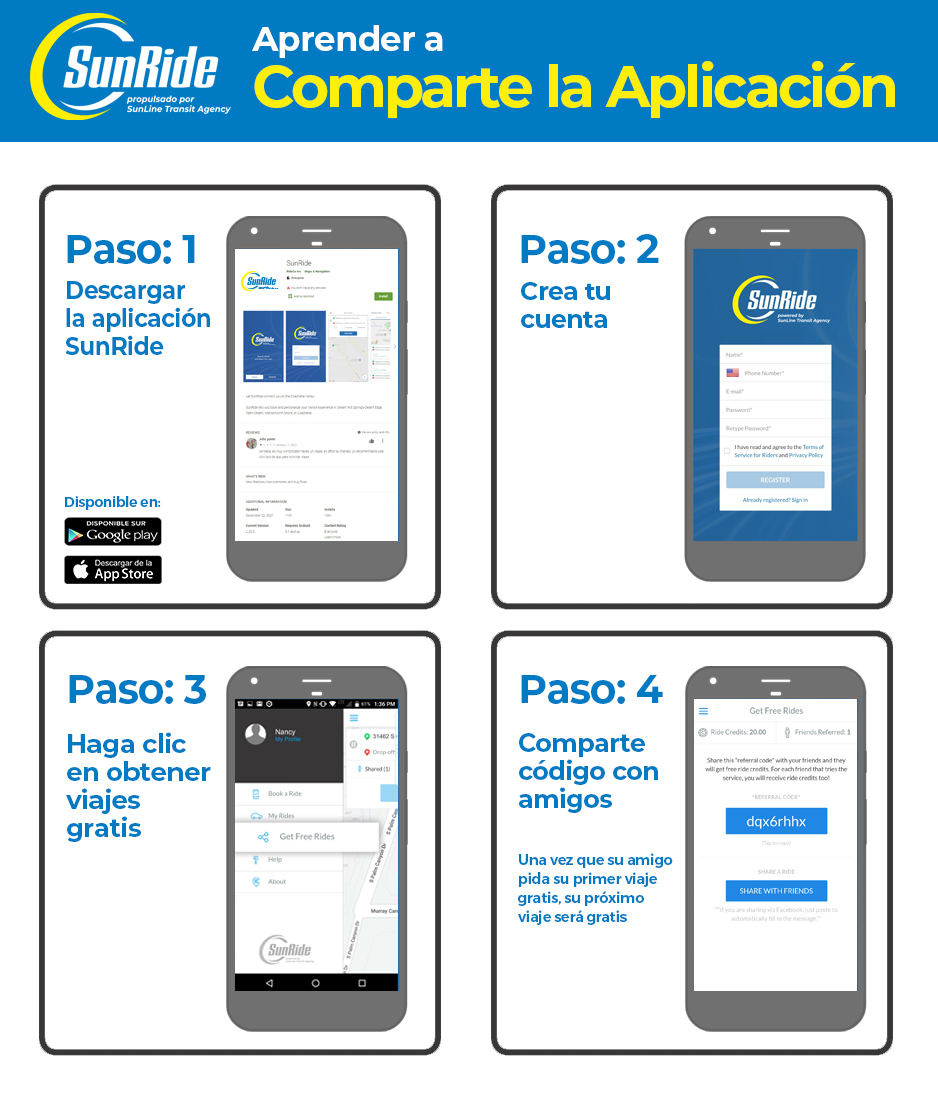 Zones:
Desert Hot Springs -Desert Edge (formerly Desert Edge)
Connect to:
-Route 3 at Dillon loop to Hacienda Ave. and Mountain View
-Routes 2 and 5 at Palm & Dillon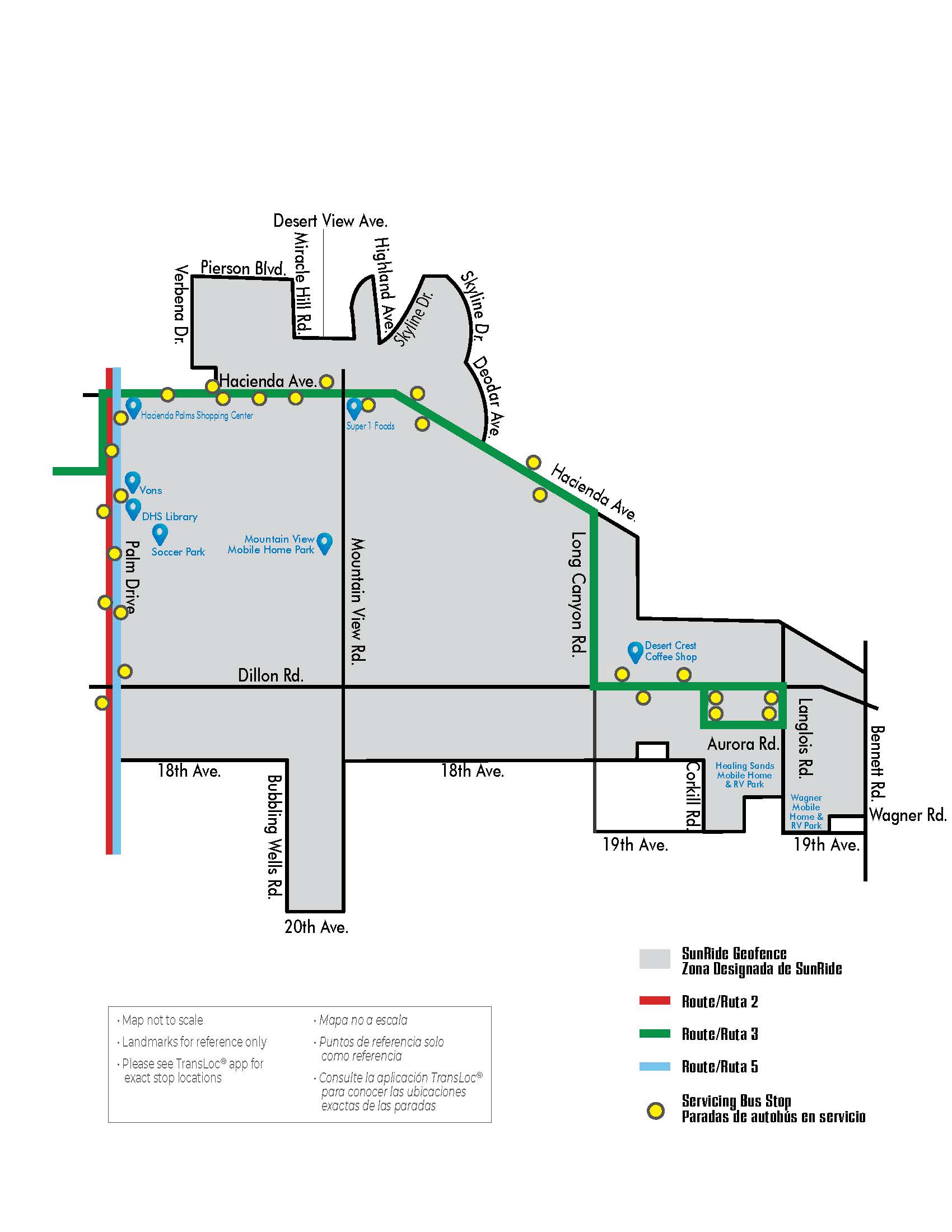 ---
Palm Desert (formerly Cook St. Corridor)
Connect to:
-Routes 5 and 6 within geofence
-Route 1 at Cook St. and Hwy. 111
-Routes 1, 4, 5 and 6 at Town Center and Hahn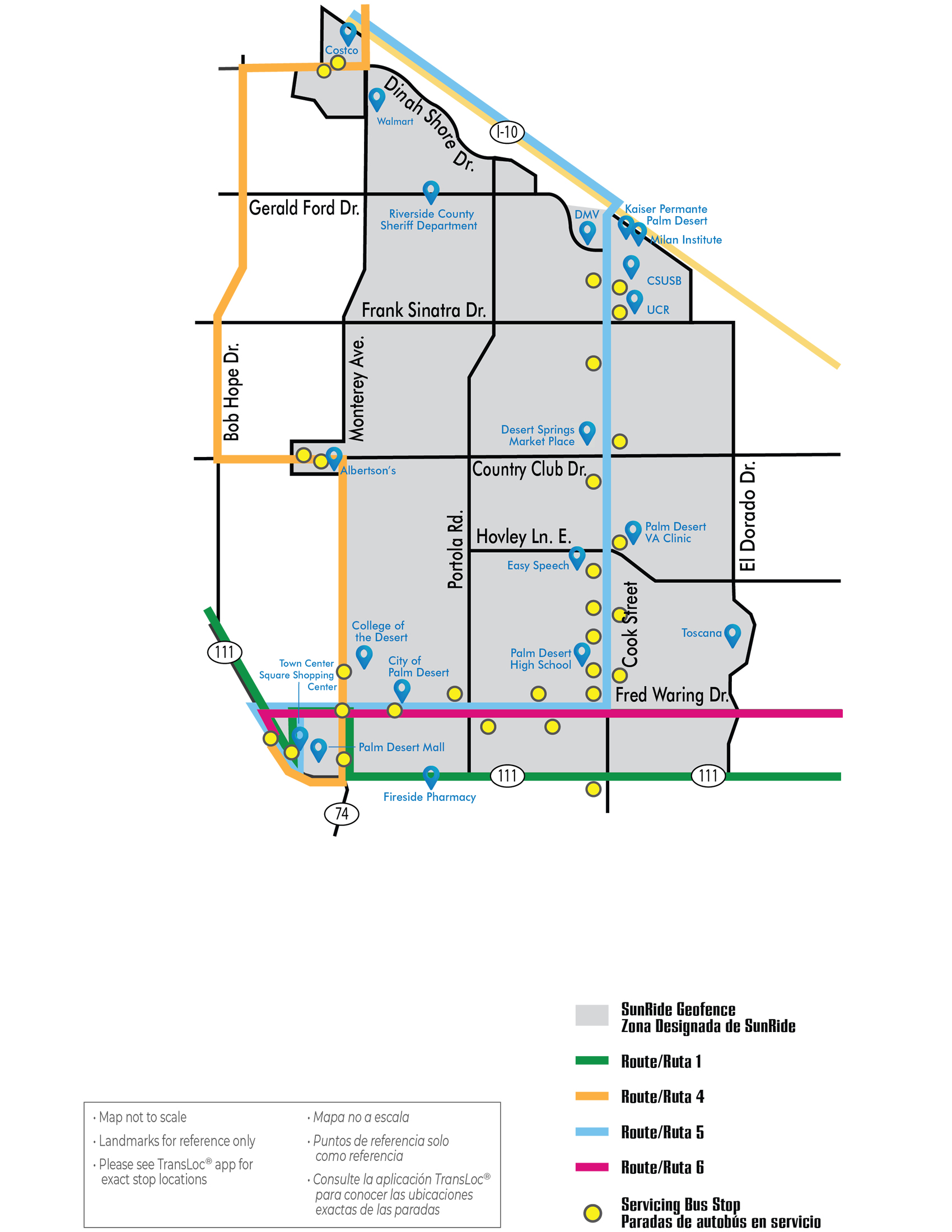 ---
Coachella
Connect to:
-Route 8 within the geofence
-Route 1, Route 6, and Route 8 at 5th & Vine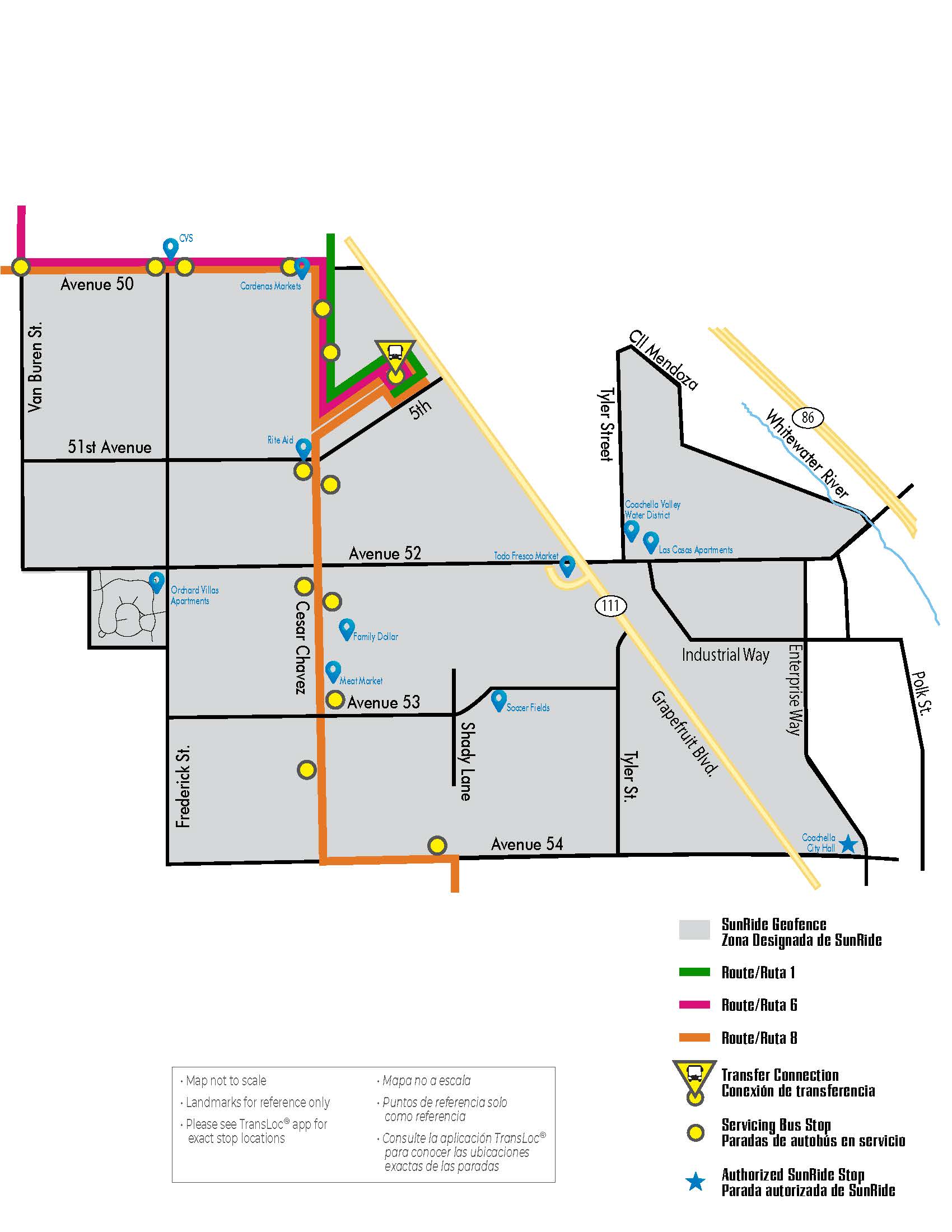 ---
Mecca North Shore
Connect to:
-Route 9 at stops from Mecca Library to Club View Dr. & Windlass Dr.
-Route 8 Mecca Library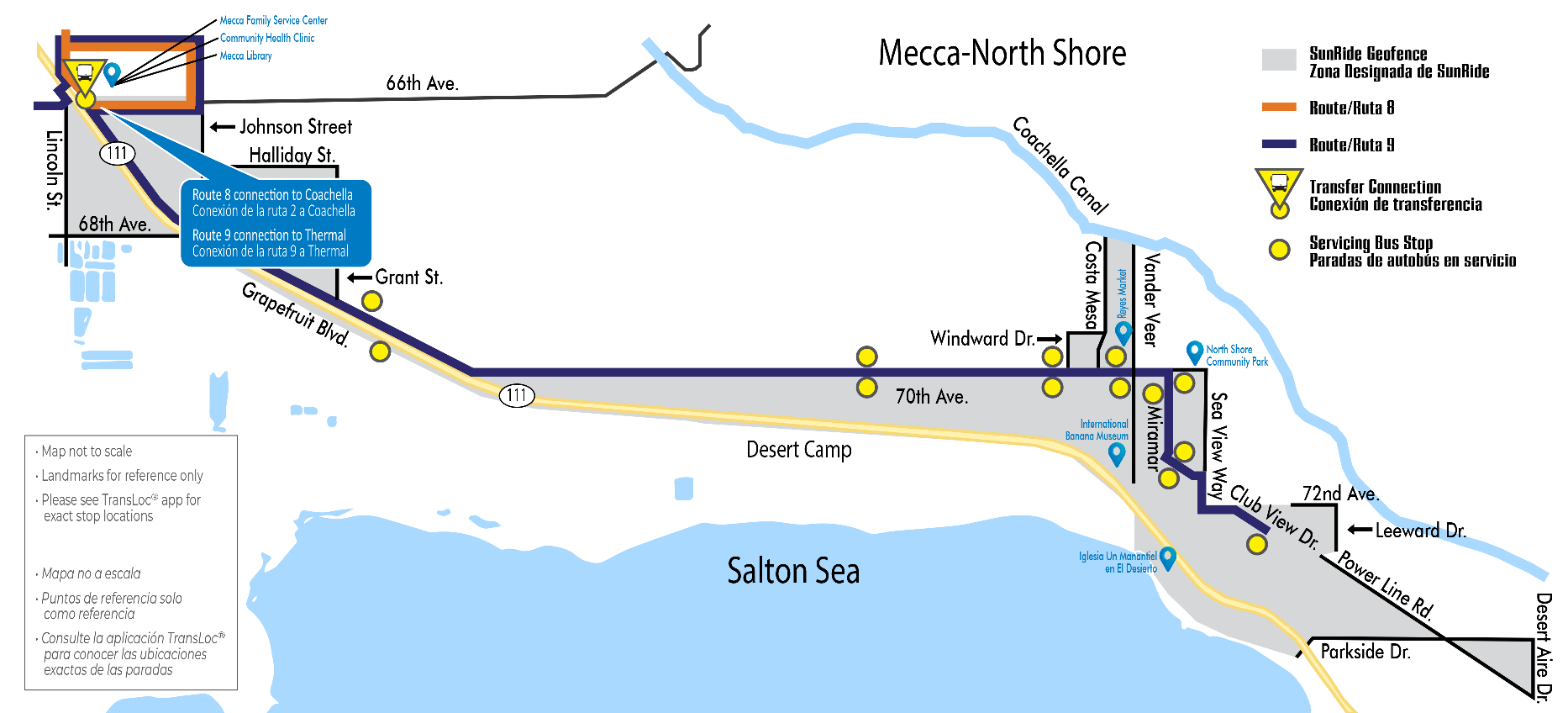 ---
How SunRide Works:
Request a Ride: Anyone within the service area boundaries can summon a ride using the SunRide mobile app. Simply enter in your destination address. A driver will be matched with you in approximately 15 minutes. You can also schedule a ride ahead of time. 
Go to your app store and search "SunRide" to download the app. Click to download: Google Play - Apple App Store
Open the app, create an account and set up your payment options. This is a free account, and your information will not be shared, however, you will need to include your mobile phone number if you would like to receive text message notifications.
Confirm your pick-up location and select your drop-off location. These must be within the service's designated zone shown on the map. Change your pick-up time by scheduling a later date (up to two dats in advance) and selecting a new time and date to schedule your ride ahead of time. 
Select the number of passengers with you,. If you need a wheelchair-accessible vehicle,  specify in "special instructions." Tap "Request Ride" when ready. 
Follow your ride in real time to stay informed on your ride status, your driver's name and the vehicle identification number. Do not get into a vehicle that does not match your SunRide driver description on the app. 
Fares & Passes
Route and service adjustments have been made to improve efficiency and effectiveness.
Service Alerts
Route and service adjustments have been made to improve efficiency and effectiveness.